About BI-Cycle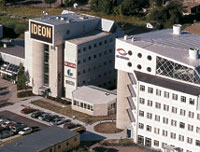 The office of BI-Cycle in Sweden is located at 'Ideon' in Lund; a research center in the heart of the Oresund Region.
History
In today's production facilities, maintenance plays a crucial role in improving plant performance. Not only the costs of maintenance itself, but also the costs of production losses resulting from breakdown and plant overhaul constitute important factors in the financial results of the Company.
BI-Cycle has recognized this when it started its activities in 1996. Software tools were developed that support the creation of cost effective maintenance programs. Initially the efforts were concentrated on Nuclear and Fossil Power Industries. Some years later this was followed by chemical -and petro-chemical industries as well as oil & gas exploration. Currently BI-Cycle is also applied in the paper, mining and automotive industry.
Strategy
BI-Cycle is an Independent Software Vendor (ISV) that is focusing its efforts on industries where reliability is crucial. The majority of our customers are in capital-intensive industries with continuously operated installations that have large and complex data-structures in place. BI-Cycle has established a network of partners to approach and support these customers.
Customer base
BI-Cycle is currently being used by Fortune 500 companies throughout Europe and the USA in industries such as:

Up-stream and down-stream oil & gas processing

Chemical industries

Conventional and nuclear power generation

Swedish Paper and Mining industry

Automotive industry

Customers include Total, BP, Repsol, Arkema, Premcor (Seadrill), Vattenfall and Danisco. BI-Cycle is carrying out business development activities in the Defense industry.
Read more on what our customers have to say.
Reference customers:

BP
OREDA
Scania
Statnett
Vattenfall
Danisco